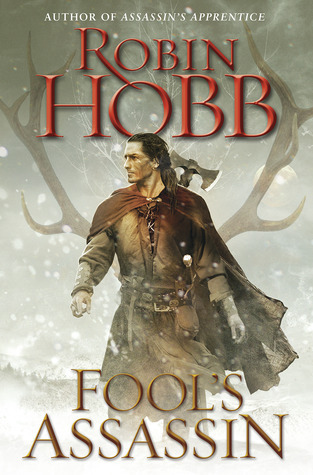 Title: Fool's Assassin
Author: Robin Hobb
Publisher: Del Rey
Publication date: August 12th 2014
Pages: 688
ISBN: 9780553392425
Source: NetGalley
Rating: 4.5/5
Buy at: BookDepository
Synopsis
Nearly twenty years ago, Robin Hobb burst upon the fantasy scene with the first of her acclaimed Farseer novels, Assassin's Apprentice, which introduced the characters of FitzChivalry Farseer and his uncanny friend the Fool. A watershed moment in modern fantasy, this novel—and those that followed—broke exciting new ground in a beloved genre. Together with George R. R. Martin, Robin Hobb helped pave the way for such talented new voices as Scott Lynch, Brandon Sanderson, and Naomi Novik.
Over the years, Hobb's imagination has soared throughout the mythic lands of the Six Duchies in such bestselling series as the Liveship Traders Trilogy and the Rain Wilds Chronicles. But no matter how far she roamed, her heart always remained with Fitz. And now, at last, she has come home, with an astonishing new novel that opens a dark and gripping chapter in the Farseer saga.
FitzChivalry—royal bastard and former king's assassin—has left his life of intrigue behind. As far as the rest of the world knows, FitzChivalry Farseer is dead and buried. Masquerading as Tom Badgerlock, Fitz is now married to his childhood sweetheart, Molly, and leading the quiet life of a country squire.
Though Fitz is haunted by the disappearance of the Fool, who did so much to shape Fitz into the man he has become, such private hurts are put aside in the business of daily life, at least until the appearance of menacing, pale-skinned strangers casts a sinister shadow over Fitz's past… and his future.
Now, to protect his new life, the former assassin must once again take up his old one…
Opinion
Having yet to read the Farseer Trilogy, which precedes this book, I may have just spoiled myself a hundred times over on the fates of Fitz, the Fool, and so many other characters that populate this world. So, if you have not read the Farseer Trilogy and don't want to hear a single spoiler on it, I advise you not to keep reading. (Don't worry, there won't be spoilers for Fool's Assassin itself here.)
Fool's Assassin is completely different from any other epic fantasy book I've read, starting on the main character itself. It's not about the chosen one or an underdog who must destroy the greatest evil of the land, or the young man who sees his parents being murdered and vows to take revenge, or any of the other common tropes. It is about a middle aged man who has settled down and is very content to spend his days with his beloved wife instead of juggling intrigue and death. Some habits die hard, of course, and he sees still shadows of murder and poison in his own quarters. When strangers appear during Winterfest and the blood of a messenger is found without a body, his past comes barging in. Yet it is only many years later that he discovers what it was all about.
This story's pace is fairly slow. Instead of jumping from danger to danger, it narrates the daily life of the characters in a fantasy setting in a way similar to what happens in plenty of contemporary books. There are parties, guests, visits to the market, house renovations, raising children, and so on. But there is always a dash of magic and mystery. Settled down or not, FitzChivalry is still a Farseer. Both the Crown and his old friends (which often overlap) haven't forgotten him, and they make sure he know it. And so, drama barges in every now and then, much to Fitz's chagrin.
Slowly, Hobb presents the readers with pieces of what's to come. An odd request, a dying messenger, an old prophecy. There is a lot of foreshadowing. This is so clear that, despite it being a character driven book, the tension remains. And when hell breaks loose, well, let's just say that though most events were expected, they still took me aback. Especially that cliffhanger ending. Goodness above, the wait for the second book is going to kill me.
And yet, whilst it was a nice change to finally read a fantasy book in a medieval setting where there was more than action going around, I could have done with a little more action. There was a nagging feeling in the back of my mind that more should be happening, that the majority of the story was just one long prologue.
However, it is easy to forget this slow pace in the midst of so much amazing writing.  The characters, especially Fitz and the second narrator (whose name shall remain unsaid for spoiler reasons), were beautifully developed and believable. The writing was rich and revealing of plot and character. The worldbuilding was realistic and enveloping. And as for the story itself, it was not only engaging but it promises a whole lot more to come in the future. A future that cannot come fast enough. Besides, I felt a hint at the existence of queerplatonic partners in the book, which left me with a giddy feeling in the pit of my stomach as it's not a concept that books often discuss. At least not so plainly.
I can't say what Fool's Assassin is like for an already Hobb fan, but as an introduction to her work, I can guarantee that it got me hooked. With a mostly domestic story, it defied plenty of clichés in the fantasy genre, from the pace itself to the age of the protagonists. In Fool's Assassin, Hobb returns to a land and to characters she had already written about, and she braves new worlds while at it.
The book in a quote
"'When you want a thing so badly for so long, and then it comes time to face that you cannot have it, sometimes—'
'Sometimes you can't believe it when it comes to you. Sometimes you're afraid to believe it. I understand your hesitation.'"