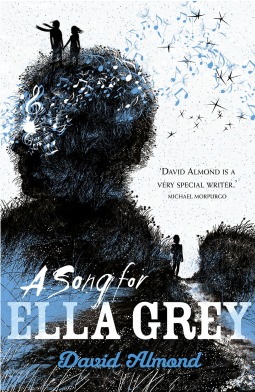 Title: A Song for Ella Grey
Author: David Almond
Publisher: Hodder Children's Books
Publication date: October 2nd 2014
Pages: 272
ISBN: 9781444919547
Source: NetGalley
Rating: 2.5/5
Buy at: BookDepository
An epic new novel from the award winning author of SKELLIG

A lyrical teenage love story inspired by the myth of Orpheus and Eurydice. Set in the urban landscape and coastal headlands of the North East of England, David Almond brings his legendary storytelling to this heart-breaking tale, giving it the intoxicating urgency and absolute beauty he is so admired for.

"I'm the one who's left behind. I'm the one to tell the tale. I knew them both… knew how they lived and how they died."

Claire is Ella Grey's best friend. She's there when the whirlwind arrives on the scene: catapulted into a North East landscape of gutted shipyards; of high arched bridges and ancient collapsed mines. She witnesses a love so dramatic it is as if her best friend has been captured and taken from her. But the loss of her friend to the arms of Orpheus is nothing compared to the loss she feels when Ella is taken from the world. This is her story – as she bears witness to a love so complete; so sure, that not even death can prove final.
You know those books that have the most beautiful descriptive language, the sort that makes your chin drop and your insides swirl in a mixture of awe and envy? And those that have an interesting premise but in the end don't quite deliver? Just pick those two sorts of books, mash them together and you'll have A Song for Ella Grey. And that's why I don't know what to make out of this book.
I always liked lyrical language (not purple prose, mind). Whenever I find a book where the words flow perfectly together, I get twinkly eyes and a compulsion to drown in the prose. What can I say? Everyone has their little pleasures. And Almond sure knows how to turn a phrase. His sentences flow to the speed of the water and music he writes of. It's soothing, entrancing, and, at times, unsettling.
This story is a retelling of the Greek tale of Orpheus and Eurydice. For those of you who never heard the myth, Orpheus was a poet and musician of such talent he could charm everything living. In time, he falls for a woman, Eurydice, whom he marries, but their marriage is not a long one. She is bitten by vipers and soon perishes. Mad with grief, Orpheus descends to Tartarus, the underworld, where, aided by his music, he convinces the gods Hades and Persephone to return Eurydice to the world of the living. They tell him he can do so only if he never looks back in their way out of Tartarus, not until they are both outside it. But just as the first streaks of sunlight hit their skin inside the tunnel, Orpheus turns and Eurydice is lost to him forever.
In A Song for Ella Grey, the story is told by Claire, the story's Eurydice's (or Ella as she is called here) best friend. An interesting idea and one I salute, as few books tell the main story through the eyes of secondary characters. It's also rare to see a retelling following the original story so closely.
But as beautiful as the writing sounded, as innovative as the point of view was, in the end, it didn't make for the fantastic book it could have been. For most of the book, there was very little plot. We get to see how much Claire cares for Ella, how she may even love her friend romantically, and how she hopes and thinks that Ella's love for Orpheus won't last. I don't blame Claire for hoping it. You see, Ella and Orpheus' romance began with a phone call. A phone call which consisted of nothing but Orpheus asking her for her name, singing a song, and saying a couple more words. Suddenly, Ella dreams of him, and wants to ditch school, move countries with him and marry him,… The insta-love here is… well, it's too much for me.
And then there's the issue of the "real story", the one of Orpheus' descent to the underworld, which is told in just a few pages. When this is supposed to be the crux of the story, the demonstration of Orpheus' adoration for Eurydice, for Ella, its quick conclusion makes little sense to me. I ended up having no real grasp of their connection to one another. I could only see there were two infatuated teenagers and a narrator who knew the relationship was wrong and did too little to reason with her best friend.
Almond may be able to entrance the reader with his flowery language, just as mythical Orpheus once did, but the story itself feels devoid of any real substance. There is more to a book than its phrasing, and A Song for Ella Grey lacked most of the rest.
The book in a quote
"Maybe it was all because we were young, and because being young is like being mad. Maybe just being human, at any age, is a bit like being mad."