In this week's Book Badger's Five Friday Favourites, I present my five of my favourite typography on books!
Miss Peregrine's Home for Peculiar Children, Ransom Riggs (Miss Peregrine's Peculiar Children #1)

I have a thing for this book's looks, I won't lie. The cover is pretty, the photos are entrancing, the pages between chapters are beautiful, and, of course, the typography makes me want to cry. Few books have elicited such a reaction from me just out of being pretty to be honest, but this one did. 

The number of people that I've nagged to look at how pretty it all is may be rather ridiculous. But can you blame me? Because if you think I may be overreacting, rush to the closest bookshop and look at it! Just look!

And I have to say, the inclusion of both an older and modern looking fonts at the cover complement the story only too well. 

"I used to dream about escaping my ordinary life, but my life was never ordinary. I had simply failed to notice how extraordinary it was."
The Name of the Wind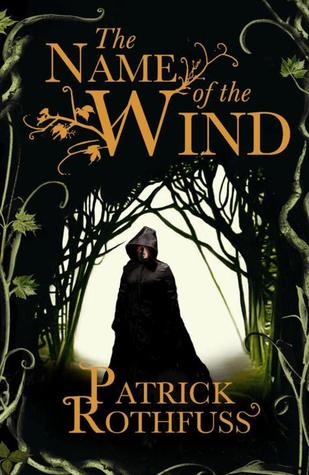 , Patrick Rothfuss (The Kingkiller Chronicle #1)
First of all, this book is amazing and you should read it if you haven't already. For the plot, for the writing, for the characters, for the worldbuilding, and everything else in the world.
The Name of the Wind didn't immediately pop into my mind when I thought of good typography books but only because of its close association with drooling over the language for me. However, while I was looking around in my shelves, I just had to pick it up. Maybe it's a biologist's innate bias, but I do love the whole leaves sprouting thing going on in the cover.
And may I add that my copy smells delicious?
"It's like everyone tells a story about themselves inside their own head. Always. All the time. That story makes you what you are. We build ourselves out of that story."
The Graveyard Book, Neil Gaiman 

Another great book (though, really, is any Gaiman book a bad book?), another great cover with a twist on the typography.

After all, the cover typography manages to combine plenty of the books characteristics. It's an MG so the letters are big and curvy. Some of its characters, and even the graveyard that it's set in, have people from other ages, so the font has a bit of an old look. It is rather creepy, so it is thin and slightly severe.

Whoever created the typography here knew what they were doing extremely well.

"You're alive, Bod. That means you have infinite potential. You can do anything, make anything, dream anything. If you can change the world, the world will change. Potential. Once you're dead, it's gone. Over. You've made what you've made, dreamed your dream, written your name. You may be buried here, you may even walk. But that potential is finished."
The Lies of Locke Lamora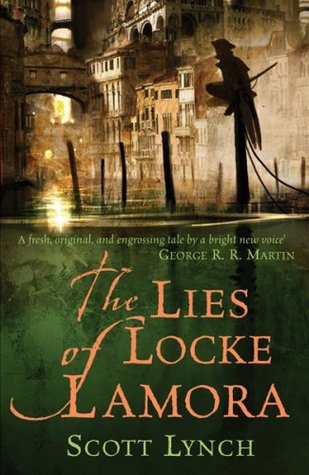 , Scott Lynch (Gentleman Bastard #1)
For those of you who don't know, this is a fantasy book that is well known not only for its wild swearing (really, Lynch is an artist at crafting swears) and maddening plots (in a good way), but for its setting. Lynch created a world reminiscent of the Italy associated with the Mafia. The title of the series says it quite well. It is a gentlemanly society filled of crooks who can't wait to dig a knife into your back and steal your wallet. Two traits that are shown in the title's font.
On the one hand, you have the grace and beauty of the delicate handwriting. On the other, the grittiness of the typewriting. Both of which are fading at the seams. Two worlds summed up in two fonts.
"When you don't know everything that you could know, it's a fine time to shut your fucking noisemaker and be polite."
Lagoon, Nnedi Okorafor

The first thing that ever caught my eye when I first picked up this book was nothing other than the title. Not the word itself, but the way it was shaped. It looks a bit like that of a comic, except… well, one could say that all that marine wildlife slithering out of the letters hints at something more.

It was this that made me look at the synopsis, and see that my suspicions were correct. You shouldn't judge a book by its cover (or its typography), but I can tell you these two definitely match.

"There was no time to flee. No time to turn. No time to shriek. And there was no pain. It was like being thrown into the stars."
How about you? What is your favourite typography in books? Do you disagree with any of mine? What did I forget to mention? Tell me what you think!