I managed to write a weekly Booktober update on time! Woohoo!
Once again, I have four books to talk to you about. This last week, I have finished "Praesagium" by John Metcalfe, "Murder Most Unladylike" by Robin Stevens, and "Jackaby" by William Ritter. I have just begun "Unwept" by Tracy Hickman, and "Days of Blood and Starlight" by Laini Taylor. I'm also starting "We Will All Go Down Together" by Gemma Files very very soon!
~~*~~
Jackaby by William Ritter: Yup. I knew I was going to love this and I did. I love the whole mesh of supernatural/detective work/historical thing going on. Although the "whodunnit" bit of it was fairly obvious from the start, it never stopped it from being a delightful read. Also, kudos to the character of Jackaby. It's not every day that we have an odd detective, the sole person who can understand strange events, to be so kind and understanding, both of humans and not humans. Review to come.
Murder Most Unladylike by Robin Stevens: Both my thumbs are up. Another "whodunnit" book where the murderer was fairly obvious (though the reasons why were not. At all). Nonetheless, it was still a fantastic book. The characterisation was impeccable and there was never a dull moment. And, of course, one cannot forget the existence of diversity, including an MC from Hong Kong. This is definitely MG done right. Can't wait to read the next Wells and Wong mystery! Review to come.
Praesagium by John Metcalfe: The premise behind this book is brilliant, as is the author's aim to show that a stranger's actions, even if said stranger is on the other side of the world, will affect everyone else in some fashion. Sadly, I felt like the execution was lacking and rather confusing, and that the author took a little too long to show what he wanted to do. Hence why it took me over a month to finish a rather short book. Nothing some extra revisions couldn't take care of, though. Review to come.
Unwept by Tracy Hickman: I have only read about five chapters of this so I don't know how much I can speak of it. Still, I can say that the beginning got me hooked. A main character with amnesia being told she is ill and being taken to a town where everyone won't stop staring at her and her "friends" behave a little weirdly while putting up airs of normalcy? Mmm… There's something going on and I'm going to find out what it is… Yes, I will. *tents fingers in a Mr Burns like manner*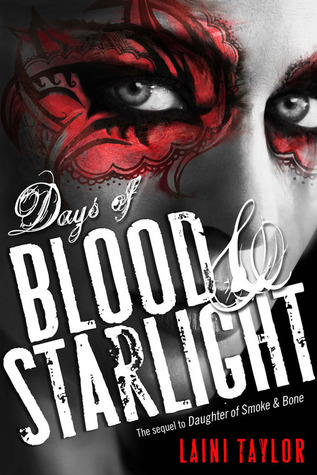 Days of Blood and Starlight by Laini Taylor: No complaints in the first 90 pages I've read! Quite the opposite. It has a great start, and it's clear that there is a lot going on since page one. It's always compelling to see how each side of a war does its planning, and the decisions of the two MCs so far are very interesting indeed. Not much mushy romance either yet, which was one of my main complaints on "Daughter of Smoke and Bone". I've got my fingers crossed for a good sequel.
~~*~~
And that's how Booktober has been so far!
How about you? Any great reads this month?