I know, I know, we're twodays away from the end of October, but I've decided to wrap up my Booktober challenge today.
In case you don't remember, I wanted to finish "A Song for Ella Grey" by David Almond, "Praesagium" by John Metcalfe, and "Jackaby" by William Ritter, and read "The Diamond Thief" by Sharon Gosling, "The Blood of Olympus" by Rick Riordan, "We Will All Go Down Together" by Gemma Files, and "Night of Pan" by Gail Strickland.
Whilst I did finish the first three books, the rest… didn't mostly go according to plan. I ended up reading "Blood of Olympus", "Murder Most Unladylike" by Robin Stevens, "Days of Blood and Starlight" by Laini Taylor, and "Unwept" by Tracy Hickman, and only managed to start "We Will All Go Down Together".
In the end, I did finish three books and read four new ones. Just not the ones I had expected. So… that's not so bad, is it?
~~*~~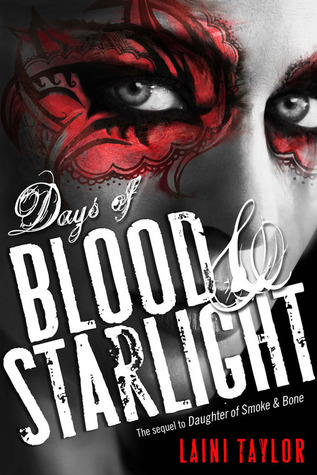 Days of Blood and Starlight by Laini Taylor: Yup. This was good. So very good, and so much better than the first book. I honestly never expected to enjoy this book as much as I did. The stakes are unbearably high from beginning to end, while there is still some romance it doesn't make me feel sick (fearing for book 3 there though), and Taylor doesn't mind to push her characters further and further into physical and mental pain. Cannot wait to pick up book 3. Just cannot. Review to come.
Unwept by Tracy Hickman: Remember how I said I was intrigued by this book? Well… My interest dwindled down to nearly nothing. There is barely any plot development until the last quarter of the book, when everything suddenly starts to happen. Not even the characters, bland and/or childish as they were, made me enjoy reading this. The only thing I did like, and what I think kept me turning the page, was Hickman's pleasant writing. Still, I doubt I'll read the second book when it comes out. Review to come.
We Will All Go Down Together by Gemma Files: I haven't read much of it yet, but so far, so good. This book is comprised by connected short stories, which are written in a blog/social media form. It may sound odd but Files has made it work. The blog entries and comments combined with wonderful language make it hard to bat an eyelash. As for the presence of the supernatural, it doesn't seem to be your usual book. There is a clear twist yet, and one that sounds quite interesting…
~~*~~
That's the end of Booktober for me!
How was yours? Did you complete your challenge?