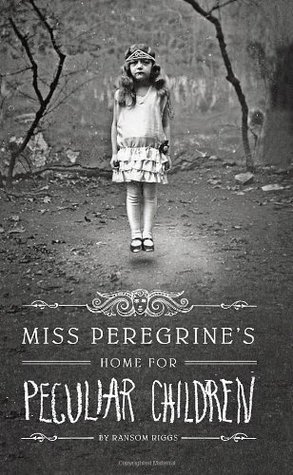 Title: Miss Peregrine's Home for Peculiar Children
Author: Ransom Riggs
Publisher: Quirk
Publication date: June 7th 2011
Pages: 352
ISBN: 1594744769
Source: Myself
Rating: 3/5
Buy at: BookDepository
A mysterious island. An abandoned orphanage. A strange collection of very curious photographs.

It all waits to be discovered in Miss Peregrine's Home for Peculiar Children, an unforgettable novel that mixes fiction and photography in a thrilling reading experience. As our story opens, a horrific family tragedy sets sixteen-year-old Jacob journeying to a remote island off the coast of Wales, where he discovers the crumbling ruins of Miss Peregrine's Home for Peculiar Children. As Jacob explores its abandoned bedrooms and hallways, it becomes clear that the children were more than just peculiar. They may have been dangerous. They may have been quarantined on a deserted island for good reason. And somehow—impossible though it seems—they may still be alive.


A spine-tingling fantasy illustrated with haunting vintage photography, Miss Peregrine's Home for Peculiar Children will delight adults, teens, and anyone who relishes an adventure in the shadows.
First of all, let me just say this is one of the most beautiful books I have ever held. From the typography, to the photographs, to the cover, to the spine, to the pages separating chapters, to the numbering,… It's just beautiful. I don't think I've ever been so much in awe of the looks of a book. I'm not sure I ever will be. I mean, it's just gorgeous. So please bear with me as I share some photos of the pretty, but it just demands to be shared.
Okay, now that I've let that out of my chest, let's begin.
When Jacob's grandfather calls him at work demanding to know where the guns are so he can protect himself from the monsters, it takes everything in Jacob not to sigh. Lately his grandfather has been under the delusion that he's being followed, and if Jacob won't take good care of him, chances are he'll end up in a home. Everything Jacob does not want. His granddad might be going a little crazy and he might have lied to Jacob when he was a kid about how he fought monsters that Jacob later found to be Nazis, and about the existence of peculiar people, showing him photographs of children with two faces or easily holding boulders. But he's still his granddad.
However, as Jacob arrives home, he realises that this time his grandfather had good reason to ask for a gun. As he enters his grandfather's back garden, he sees a monstrous creature attacking him, and eventually killing him. Everybody puts Jacob's description of the monster as a reaction to shock. He is sent to a psychiatrist and begins a long process of "returning to normal", a process that leads him somewhere he never thought he'd go…
This book starts out with a bang. Quite literally. A bang that leads into a trope-defying, or peculiar if you'd like, story. Jacob, upon seeing the impossible, does not insist on the existence of monsters. He blames the visions on the rational reasoning of shock, of mirages of a sort. He follows the logical path of treatment, an oddity that felt rather refreshing.
Unfortunately, it also led to a slackened pacing. Although there is much to applaud in Riggs' exploration of a loss in a family, of the secrets that had been kept over the years, and how people cope, it took half a book for the description in the synopsis to start unfolding. Then, it took another while
for the main story to get moving.
Now, with a lot of books, it would have bothered me, but the beautiful prose, the way Riggs' fit the photographs (they're all old genuine photos from private collections, by the way) into the story, and the atmospheric settings made me forget my annoyance almost as soon as it began. How could I be angry at a book for being slow when it allowed me to see, even taste, what was happening? Besides, the plot, whilst slow, was entertaining and uncommon – and if there's one thing I love it's originality of the eerie kind.
And yet, I'm not sure that I would have liked it as much had it not been for the aesthetics. After all, though the concept is brilliant and unique (I wish I could discuss it here, but it's introduced so late into the story that doing so would be equivalent to entering the realm of spoilers), although it provides a new take on a… time defying subject, the characters feel flat and childish, the little bit of romance is both disconcerting and sudden, and Jacob's big decision near the end doesn't feel quite right.
In the end, however, I enjoyed reading it and that's what matters. After all, for all it's worth, Miss Peregrine's Home for Peculiar Children is one interestingly creepy read with great twists on common tropes.
The book in a quote
"We cling to our fairy tales until the price for believing in them becomes too high."