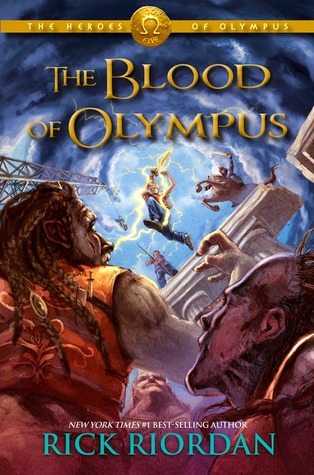 Title: The Blood of Olympus
Author: Rick Riordan
Publisher: Disney-Hyperion
Publication date: October 7th 2014
Pages: 502
ISBN: 1423146735
Source: Myself
Rating: 5/5
Buy at: BookDepository
Though the Greek and Roman crewmembers of the Argo II have made progress in their many quests, they still seem no closer to defeating the earth mother, Gaea. Her giants have risen—all of them—and they're stronger than ever. They must be stopped before the Feast of Spes, when Gaea plans to have two demigods sacrificed in Athens. She needs their blood—the blood of Olympus—in order to wake.

The demigods are having more frequent visions of a terrible battle at Camp Half-Blood. The Roman legion from Camp Jupiter, led by Octavian, is almost within striking distance. Though it is tempting to take the Athena Parthenos to Athens to use as a secret weapon, the friends know that the huge statue belongs back on Long Island, where it "might" be able to stop a war between the two camps.

The Athena Parthenos will go west; the Argo II will go east. The gods, still suffering from multiple personality disorder, are useless. How can a handful of young demigods hope to persevere against Gaea's army of powerful giants? As dangerous as it is to head to Athens, they have no other option. They have sacrificed too much already. And if Gaea wakes, it is game over.
(Spoilers for the previous books in the series.)
Oh wow. I still can't quite believe that Heroes of Olympus is over. After five years spent on this journey, after clinging for dear life at the end of each painful cliffhanger, after rooting and falling for such amazing characters, it's hard to understand that there won't be a new story with Percy and the gang next year. But of course that nothing can last forever, and it's always better to end with a bang.
Boy, what a bang this one was. It kept me awake until 4-5 am every day I decided to read a bit before bed thinking "I'll just read two chapters and sleep". Obviously, it didn't quite work, and if you're thinking of doing the same I advise you not to. Riordan books before bedtime are dangerous – not because they'll create nightmares, but because you'll suffer from severe lack of sleep. This was clearly no better. Between tiny cliffhangers at the end of each chapter, wishing to reunite with another PoV, and the multitude of problems the gang had to deal with, it was increasingly difficult to disconnect from the book for a single moment.
In The Blood of Olympus, our handful of Roman and Greek friends continues their voyages: Nico, Reyna and Coach Hedge to Camp Half-Blood to stop the massacre between the Greek and Roman camps, and Percy, Annabeth, Leo, Hazel, Jason, Piper and Frank towards Athens to get rid of the goddess Gaea before she can wreck much more havoc. But of course that things can't go smoothly for our demigods. Each of their encounters can get them killed or help them move forward, and it's rarely easy to tell them apart. Especially so when all monsters and gods are intent on informing them that at least one of them shall surely perish before the week's end.
In the meantime, we see old friends and foes (whom I won't name so it'll be a surprise). They're all changed, as it could only be when the world's about to end. Indeed, all characters have suffered a huge development since we last saw them while remaining the same at heart. It's heart breaking and heart warming at the same time to see how Percy and Annabeth deal with surviving Tartarus, how Leo fights to keep his promise, how Nico copes with his unrequited crush.
We also get some background on characters like Reyna (and let me tell you, ouch), and Nico, as they are two of the characters through whose eyes we experience the story. An absolutely wonderful and well deserved experience. After all, they're as much part of the team as the others. However, I do wish there had been a few chapters from either Annabeth's or Percy's perspectives. Even though we've had plenty of Percy's, I would have loved reading what was going through their heads post-Tartarus. To my knowledge, PTSD is rarely discussed in MG, and there was ample opportunity to change that here.
As for the plot, I felt like it was a teensy bit weaker than The House of Hades, but honestly, it'd be near impossible for him to surpass that. It is, however, still packed with humour, adventure, twists, action, and all we have come to love about the series.
In the whole, The Blood of Olympus is an epic conclusion to an epic series that I wish had not ended. There were giggles, gasps, fear, tearful eyes, and the desire for more. Saying goodbye to these characters is, at best, painful, and that by itself tells more of how much I enjoyed the series than anything else ever could. Camp Half-Blood, I hope I'll see you soon. If not in a book, then in my dreams. Until then, keep being awesome.
.
The book in a quote
"Piper glanced at her friends. 'A trick?'
'Probably?' Annabeth said.
'At least he brought dessert.' Percy smiled down at the snake guys. 'Welcome aboard!'"