In this week's Book Badger's Five Friday Favourites, I picked five retellings I loved – a rather harsh task when I love this sort of story, even if I haven't read as many of them as I wish.
Cress (The Lunar Chronicles #3), Marissa Meyer


As one of my favourite books, Cress had to be here. Not only because I adore the sneaky ways Meyer includes fairytale elements in the story from Rapunzel (Thorne's name, for example, alluding to the thorns that blind the prince), Cinderella and Red Riding Hood, but because… well, I adore Cress. It's not often that a writer manages to make a character like Cress shine so beautifully, or to breathe fresh life into an old tale. And let's leave it at that before I turn into one rambly mess of fangirling.

"Maybe there isn't such a thing as fate. Maybe it's just the opportunities we're given, and what we do with them." 
Daughter of the Forest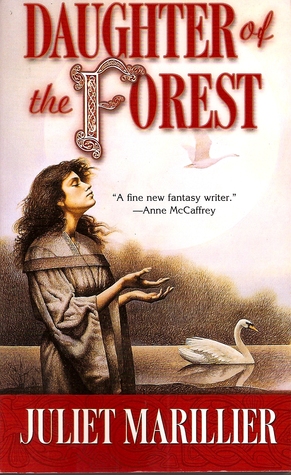 (Sevenwaters #1), Juliet Marillier
I still recall picking up, and reading the blurb and the book itself for the first time. My love for this book was such in my teenage years I used it for a school assignment, and read it yearly for some four years in a row. Despite the number of times I read it, I was entranced every time – to the point that it would take me some good five minutes to find my voice and feet again. It's the only book in which, if people spoke to me while reading, I'd blink and stare at them uncomprehendingly. It's truly a spell-binding retelling of The Six Swans in more ways than one.
"There is no truth on this island of yours. Rather, there are as many truths as there are stars in the sky; and every one of them different."
The Book of Lost Things, John Connolly

This book puts grittiness back into fairy tales. It features such stories as Little Red Riding Hood, Rumpelstiltskin, and Sleeping Beauty, among others, and twists them into the stuff of nightmares. Or so did my early teenage self think. It might not have been very wise of me to read it at the time. Yet the truth remains that Connolly amalgamated a series of fairytale stories and tropes to create one fantastic, terrorizing world that is very true to the initial purposes of the Grimm stories.

"Stories wanted to be read, David's mother would whisper. They needed it. It was the reason they forced themselves from their world into ours. They wanted us to give them life."
Smoke and Mirrors
, Neil Gaiman
Although the book itself is not a retelling, it is home to one of my favourites of all times: Snow, Glass, Apples. It's a short story that tells the tale of Snow White through the eyes of the wicked stepmother who might… not be so wicked after all. Actually, you might begin feeling sorry for her and fearing Snow White, as well as being majorly creeped out. Yep, this is another I probably read a bit too young. If you end up scarred by it as I did, don't say I didn't warn you.
"She said nothing. Her eyes were black as coal, black as her hair; her lips were redder than blood. She looked up at me and smiled. Her teeth seemed sharp, even then, in the lamplight."
Wildwood Dancing (Wildwood #1), Juliet Marillier


Another Marillier book, this time with a retelling of The Twelve Dancing Princesses. I didn't know this tale before reading Wildwood Dancing, but I quickly fell in love with both. Marillier added a simple, yet enchanting storyline to the original tale and coloured all twelve sisters and other characters so that, despite them being plenty, each was their own person. Not an easy feat with such a huge cast. All the while, she gives a little taste of other fairy tales, including The Frog Prince.

"If a man has to say trust me, Gogu conveyed, it's a sure sign you cannot. Trust him, that is. Trust is a thing you know without words."
What is your opinion on retellings? Do you think them unoriginal or necessary?
Tell me what you think! And do share some of your favourites!