First of all, I'm really sorry I have been MIA for the last couple of weeks. Life decided to drop a lot on me all at once and I couldn't do more than the odd post now and then. With Christmas coming up, I can't promise that it'll completely change very soon, but I can tell you that I'll try my best to post more regularly once again.
Babbling aside, it's time for the Top Ten Tuesday meme, hosted by Broke and the Bookish, and this week I'm sharing ten authors (bar debuts) I had the pleasure of beginning to read this past year.
A Little Princess, Frances Hodgson Burnett

I know. I should be acquainted with this author since childhood, but alas, that wasn't the case. I corrected it this year, though, with  A Little Princess and The Secret Garden, both of which I loved, especially the first.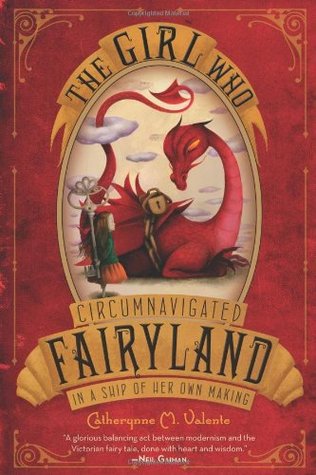 The Girl Who Circumnavigated Fairyland in a Ship of Her Own Making (Fairyland #1), Catherynne M. Valente
Valente writes so beautifully it's maddeningly insane (I'm still mentally weeping over the language). I've had Deathless in my TBR since pretty much always and now I'm even surer I need to read it.
The Hero and the Crown (Damar #1), Robin McKinley
An author who wrote in the 80s a YA fantasy with a fairytale feeling featuring a brilliant female dragon slayer protagonist? With a beautiful language too? How did I never know of McKinley before this year?!
Fool's Assassin (The Fitz and the Fool Trilogy #1), Robin Hobb
I've been meaning to read Hobb and her stories about Fitz since I first began delving into the fantasy genre; in other words, for some 7/8 years. I now know I was very right in wanting to read her. Fabulous writer.
Doll Bones
, Holly Black

I might have missed out on The Spiderwick Chronicles back when I was a kid, but now that I know how creepy Black can be. I'm sure to go back to her whenever I can from now on. Few writers manage to spook me, after all, and Black certainly did.
All My Puny Sorrows
, Miriam Toews
It's not easy to write good drama. It's even harder to write of depression, suicide, and what it does to all those involved. Toews did an impeccable job. She was respectful, truthful, funny, and heartbreaking. I won't forget her any time soon.
I Capture the Castle, Dodie Smith
I used to think of her only as the author of the story that inspired the 101 Dalmatians Disney film. Now, I know she is much more. Smith evoked her setting and cast so beautifully one could almost taste the air they breathed.
Cuckoo Song, Frances Hardinge
Hardinge is just… wow. Her writing is fluid and, well, evocative too. From her  unworldly descriptions of jazz music to the plot and twists in Cuckoo Song, she's… wow. Definitely on my  "to read author forever" list.
Thief's Magic (Millenium's Rule), Trudi Canavan
I'm still clapping over the worldbuilding in this one. Canavan is another fantasy author I had meant to read but had not had the chance before. Now, I can't wait to catch up to her previous books and to read whatever she cooks up next.
Lagoon
, Nnedi Okorafor
I thought I'd begin reading Okorafor with Akata Witch, but it was Lagoon who found me first, and I couldn't be happier. Lagoon was one of the best sci-fi novels I have ever read. I'm sure Akata Witch is even better than what I dreamt.
 ~~*~~
How about you?
Who were your favourite authors to discover this year?