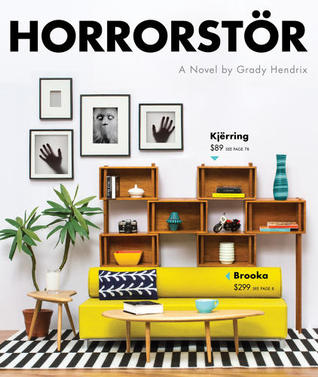 Title: Horrorstor
Author: Grady Hendrix 
Publisher: Quirk Books
Publication date: September 23rd 2014
Pages: 243
ISBN: 9781594745263
Source: NetGalley
Rating:  4/5
Buy at: BookDepository
Something strange is happening at the Orsk furniture superstore in Cleveland, Ohio. Every morning, employees arrive to find broken Kjerring bookshelves, shattered Glans water goblets, and smashed Liripip wardrobes. Sales are down, security cameras reveal nothing, and store managers are panicking.

To unravel the mystery, three employees volunteer to work a nine-hour dusk-till-dawn shift. In the dead of the night, they'll patrol the empty showroom floor, investigate strange sights and sounds, and encounter horrors that defy the imagination.

A traditional haunted house story in a thoroughly contemporary setting, Horrorstör comes packaged in the form of a glossy mail order catalog, complete with product illustrations, a home delivery order form, and a map of Orsk's labyrinthine showroom.
Some time ago I said it was difficult for me to feel properly scared while reading a book, and while I do maintain that sentiment, it's still a fact that I nearly fell off my chair when my phone rang as I read Horrorstor. 
It's not that the horror is something innovative. Hendrix uses a perfect combination of tropes. What makes the book so terrifying is how easily it sucks the reader in so that one believes they're actually walking the floors of Orsk, blinded in the darkness, hearing the scuffles of feet, seeing shadows materialise. Hendrix does so by pulling you in with smart jokes over the pain of working retail, with a cast of unique characters who slowly show to be more than what they first appeared to be, and by using retail jargon which only makes it more realistic. This last point has an extra hand in the shape of the drawings and figures that accompany the book and make it look quite like a catalogue.
Before you know it, you can see the Orsk halls full of Orsk chairs and sofas, displayed in the perfect way to create a cozy Orsk living room you just have to buy. And that kitchen set, why, you can see it too! Even the fake door that leads to the wall. So when the creepiness starts creeping in (pun intended), when the first rats pop up, when Amy is surprised to see that a fake door gives way to an unknown hall, you have no other option. You believe it too.
It's a shame I didn't read it for Hallowe'en, for this is a story that befits it only too well. Not only does it provide entertainment for some of humankind's basic fears (such as the darkness), but to other more personal ones (such as the dreaded failure).
Horrorstor is not just a scary story. It's proof that I was right in hating going to Ikea and stores of the sort. In fact, you might not catch me inside one in the near future. Lesson learned, Mr Hendrix, lesson learned.
.
The book in a quote
"The problem was the liars. They said she could do anything she set her mind to, they told her she should shoot for the moon because if she missed she'd be among the stars, they made movies tricking her into thinking she could achieve heroic things. All lies. Because she was born to answer phones in call centers, to carry bags to customer's cars, to punch a clock, to measure her life in smoke breaks. To think otherwise was insane. The chair didn't lie to her. The chair cured her of madness. The chair showed her exactly what she was capable of, and that was nothing."