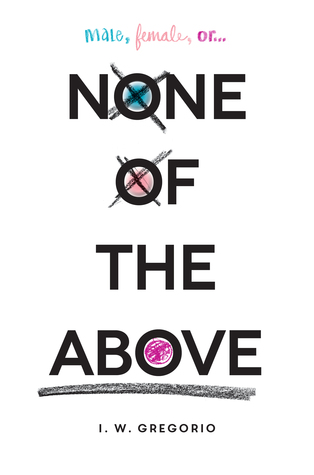 Title: None of the Above
Author: I.W. Gregorio
Publisher: Balzer & Bray
Publication date: April 7th 2015
Pages: 352
ISBN: 9780062335319
Source: Edelweiss
Rating: 4/5
Buy at: BookDepository
A groundbreaking story about a teenage girl who discovers she's intersex . . . and what happens when her secret is revealed to the entire school. Incredibly compelling and sensitively told, None of the Above is a thought-provoking novel that explores what it means to be a boy, a girl, or something in between.

What if everything you knew about yourself changed in an instant?

When Kristin Lattimer is voted homecoming queen, it seems like another piece of her ideal life has fallen into place. She's a champion hurdler with a full scholarship to college and she's madly in love with her boyfriend. In fact, she's decided that she's ready to take things to the next level with him.

But Kristin's first time isn't the perfect moment she's planned–something is very wrong. A visit to the doctor reveals the truth: Kristin is intersex, which means that though she outwardly looks like a girl, she has male chromosomes, not to mention boy "parts."

Dealing with her body is difficult enough, but when her diagnosis is leaked to the whole school, Kristin's entire identity is thrown into question. As her world unravels, can she come to terms with her new self?
YA diverse books are relatively few. YA books focusing on intersex characters are even fewer, which only makes None of the Above all the more important. Not only have plenty of people not heard of intersex (or equate it with something horrific), but intersex people don't have many stories about them. None of the Above helps erase this gap.
This is very much an issue, coming-of-age book. In a way, it's your typical "I've got a terrible secret and if the world finds out, I'll be an alone" story. Indeed, when the secret is out, she goes from popular to outcast. People call her a "tranny", her boyfriend refuses to be seen with her, Facebook is clogged with mean comments and pictures. Just what you'd expect from high school students. But does it mean it's a bad story? No, not at all. After all, bullying of this sort does happen and only too frequently. What's more, Gregorio treats the subject perfectly.
Predictable or not at times, the fact remains that the characters are very human and compelling, and it's all too easy to step into Kristin's shoes. To feel the force of the slurs hitting you. To sense the Earth's axis changing. To feel betrayed by each back that's turned your way. To feel the resentment burning your cheeks. To be consumed by the wrongness of it all. To smile as your family lends you a hand. To laugh as a friend teases you. It's all too easy to understand what the life of an intersex teen can be like. That, by itself, makes the book worth reading.
If that wasn't enough, the little lessons of what intersex is are dispersed through the book so that you can learn all about it along with Kristin. Believe me, there is quite a lot to be learned. I used to think I got it, but now I know that many of the notions I had were wrong. I have None of the Above to thank for telling me the truth.
The truth is indeed what you will get. Gregorio doesn't shy away from anatomy or sociology. She tells you everything you have to know to fully understand what it means to be intersex. Or at least, what it means to have AIS.
In short, you should definitely read this book. Whether out of curiosity about intersex or because you enjoy reading contemporary books, make sure to pick it up. It's a worthwhile read.
.
The book in a quote
"It just sucks always having to wonder what other people see when the look at me. Don't you ever just want to be normal?"