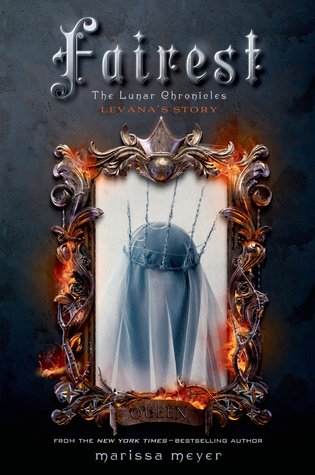 Title: Fairest
Author: Marissa Meyer 
Publisher: Feiwel & Friends
Publication date: January 27th 2015
Pages: 222
ISBN: 1250060559
Source: Myself
Rating: 4.5/5
Buy at: BookDepository
In this stunning bridge book between Cress and Winter in the bestselling Lunar Chronicles, Queen Levana's story is finally told.

Mirror, mirror on the wall,
Who is the fairest of them all?

Fans of the Lunar Chronicles know Queen Levana as a ruler who uses her "glamour" to gain power. But long before she crossed paths with Cinder, Scarlet, and Cress, Levana lived a very different story – a story that has never been told . . . until now.

Marissa Meyer spins yet another unforgettable tale about love and war, deceit and death. This extraordinary book includes full-color art and an excerpt from Winter, the next book in the Lunar Chronicles series.
It is no secret that I adore Marissa Meyer's books, so maybe I am biased, but stars, Fairest is jaw dropping amazing. But before I begin my gushing over this novella (it couldn't be any other way), let me say: if you haven't read the first three books of The Lunar Chronicles, do not read Fairest. Despite it being a prequel, it has some "spoilers" for the other books. The best reading order is the publication order.
Indeed, Fairest gives us a bigger insight into the world of the series. We now know exactly why Levana is so keen on becoming empress and how and why all her methods were birthed. Let's just say that although I do not approve of her ways at all, she is one very intelligent woman. And one that is difficult not to pity.
No, Meyer does not try to redeem Levana. Not at all. But you can see how she grew to become the villain we all love. The story follows Levana's rise to power, from her teenage to adult years, none of which are easy. Absentee parents, an insane sister, a highly technological world in love with the frivolous and beautiful, unrequited love, a precarious political situation with Earth, and a lack of resources in Luna to name a few of her problems… well, it's no wonder that Levana is not quite right in the head. She doesn't face all of these problems at once (though they accumulate and overlap constantly), but you can see how that would wear a person down and twist their minds into thinking and acting the way Levana does.
Speaking of which, get ready for some mouth-covering, gasping reactions to this story. Fairest is not for the faint of heart. Actually, I'm still surprised some of the scenes and dialogues were not considered too much for an YA audience. A disturbing non-explicit sexual one comes to mind. It's just… whoa. In a great way.
What's more, the character development and depth are absolutely magnificent. Both Levana's and of the rest of the cast. Everyone is ever changing without losing their own essence. And speaking of characters, yes, we do get to see and hear a little of others who populate the Lunar Chronicles. It could not be any other way. After all, this is the story of how Levana came to be Levana.
My only complaint with this book is quite a simple one: it ended too soon. Well, maybe it is the right length for what it is, but that doesn't stop one from craving that little bit more, does it?
If you like the Lunar Chronicles, read Fairest. Honestly. It won't just grant you a wider perspective into this world or give you the chance to read quite a few chapters of Winter that will leave you begging for more. It will blow your mind. So really, just read it.
.
The book in a quote
"Maybe the princess could save herself."
"That sounds like a pretty good story too."