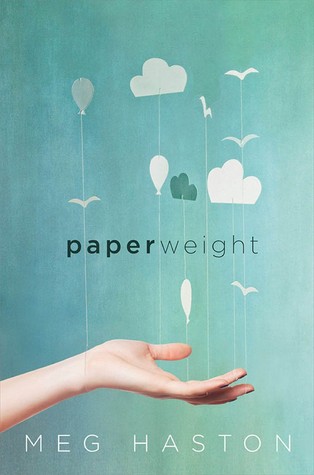 Title: Paperweight
Author: Meg Haston
Publisher: HarperTeen
Publication date: July 7th 2015
Pages: 304
ISBN: 9780062335746
Source: Edelweiss
Rating: 4.5/5
Buy at: BookDepository
Seventeen-year-old Stevie is trapped. In her life. In her body. And now in an eating-disorder treatment center on the dusty outskirts of the New Mexico desert.

Life in the center is regimented and intrusive, a nightmare come true. Nurses and therapists watch Stevie at mealtime, accompany her to the bathroom, and challenge her to eat the foods she's worked so hard to avoid.

Her dad has signed her up for sixty days of treatment. But what no one knows is that Stevie doesn't plan to stay that long. There are only twenty-seven days until the anniversary of her brother Josh's death—the death she caused. And if Stevie gets her way, there are only twenty-seven days until she too will end her life.

In this emotionally haunting and beautifully written young adult debut, Meg Haston delves into the devastating impact of trauma and loss, while posing the question: Why are some consumed by their illness while others embark on a path toward recovery?
Although quick to go through, Paperweight is a very difficult book to read. Why? Simple. It's one of the rawest books I have ever held.
Told from the perspective of Stevie, a seventeen-year-old anorexic, we are not deprived from the ugly thoughts that roam her mind. From the hatred for her mother, to the self-loathing, to the loss of her brother, to the refusal and disgust in feeding her body, we are privy to everything. This is not a happy go-lucky story, nor a cautionary tale. In a way, I would classify it as more of a survival story, except that instead of fighting the elements, Stevie has to fight something that can be quite a lot worse – herself.
It is a story that more than deserves being read and re-read. The descriptions of anorexia and depression are vivid to the point of burrowing their way under your skin. Indeed, as tempting as it may be, I'd recommend not reading this book in one sitting. A few reviewers have mentioned that it nearly put them off food, and although it didn't do so to me (I'm Portuguese, food is my life, though I admit it did get to my head at times), there's no harm in a warning. Indeed, it could be triggering for those with eating or mental health disorders, especially for those that suffer from bulimia, anorexia, suicidal thoughts, and self-harm.
The book is about more than anorexia or depression. It's about the relationships you build through your life and how they impact you, for the better or for the worse. It's about family, friends, love, betrayal, guilt, perception, and, yes, sometimes even hope.
And the characters? Oh heavens, the characters! Haston does a brilliant job in showing that one trait does not define a person, that even when you think you know a person like the palm of your hand, they can surprise you. The characters aren't defined by being queer or anorexic or depressed or, well, anything else. Rather, each feature complements another, creating a very vivid person. I wouldn't be surprised to walk into a version of Stevie or anyone else in the novel. Not to mention that everyone has a clear voice (Stevie's is extremely strong and one of the best bits of the novel) and shows a tremendous amount of plot development, even the most stubborn.
Paperweight is not a happy story. But that's okay. We don't need to only read happy stories. Sometimes, we need to read true stories, even if – no, even when they are painful. How else is one to know about the workings of the world and its players? If you like books with strong, diverse voices, don't skip this one. It'll take your breath away.
.
The book in a quote
"There are too many ifs in my head to think straight: if Josh were alive. If I'd never taken a seminar. If I hadn't introduced Eden and Josh that night. If."