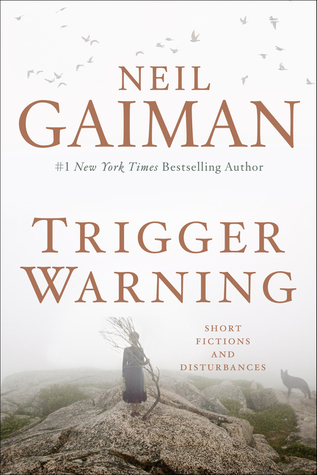 Title: Trigger Warning: Short Fictions and Disturbances
Author: Neil Gaiman
Publisher: William Morrow
Publication date: February 3rd 2015
Pages: 352
ISBN: 0062330292
Source: Edelweiss
Rating: 4/5
Buy at: BookDepository
Multiple award winning, #1 New York Times bestselling author Neil Gaiman returns to dazzle, captivate, haunt, and entertain with this third collection of short fiction following Smoke and Mirrors and Fragile Things–which includes a never-before published American Gods story, "Black Dog," written exclusively for this volume.

In this new anthology, Neil Gaiman pierces the veil of reality to reveal the enigmatic, shadowy world that lies beneath. Trigger Warning includes previously published pieces of short fiction–stories, verse, and a very special Doctor Who story that was written for the fiftieth anniversary of the beloved series in 2013–as well "Black Dog," a new tale that revisits the world of American Gods, exclusive to this collection.

Trigger Warning explores the masks we all wear and the people we arebeneath them to reveal our vulnerabilities and our truest selves. Here is a rich cornucopia of horror and ghosts stories, science fiction and fairy tales, fabulism and poetry that explore the realm of experience and emotion. In "Adventure Story"–a thematic companion to The Ocean at the End of the Lane–Gaiman ponders death and the way people take their stories with them when they die. His social media experience "A Calendar of Tales" are short takes inspired by replies to fan tweets about the months of the year–stories of pirates and the March winds, an igloo made of books, and a Mother's Day card that portends disturbances in the universe. Gaiman offers his own ingenious spin on Sherlock Holmes in his award-nominated mystery tale "The Case of Death and Honey". And "Click-Clack the Rattlebag" explains the creaks and clatter we hear when we're all alone in the darkness.

A sophisticated writer whose creative genius is unparalleled, Gaiman entrances with his literary alchemy, transporting us deep into the realm of imagination, where the fantastical becomes real and the everyday incandescent. Full of wonder and terror, surprises and amusements,Trigger Warning is a treasury of delights that engage the mind, stir the heart, and shake the soul from one of the most unique and popular literary artists of our day.
As I sit to write this review, I can't help but wonder: why am I trying to review a Gaiman book? We all know his writing. We all know how deliciously creepy and wonderfully thoughtful he can be. We all know Gaiman is a genre of his own and that you can never go wrong with a book of his. You don't need words to describe his work or recommend it to friends. You just pick a book, put it on a friend's hands and say: "It's Gaiman. He's a genius. You'll love it. Read it." That's it.
And yet here I am, for the second time in my life, scrabbling for words to describe his latest collection of shorts stories, Trigger Warning.
After much thinking, I decided to do something a little different: a review for three kinds of readers.
If you are a hardcore reader of Gaiman, you'll have read most stories in Trigger Warning, either in newspapers, online or other publications. To my knowledge, only one of the stories in this book is new. Nonetheless, there is still something quite wonderful in having all these tales compiled in a single volume and to read the author's commentary on his writing. Besides, come on, you're a hardcore fan of his. How can you pass up on adding Trigger Warning to your collection and finally having the brilliant Twitter stories on paper?
If you occasionally read Gaiman, quite a few (or all) tales will be new for you, which is good! One can always do with a little more Gaiman in one's life. Now, if you read his work for a specific "genre", be aware that you will find everything here, from horror to fantasy to science fiction. You might discover a new facet of his you didn't know before and fall a little more in love. Although not all stories are the same quality, there is the charm we have come to adore in all of them.
If you are a beginner or have never read Gaiman, I am not quite sure what to tell you. If you want to have an idea of how broad his writing is genre-wise and like short stories, Trigger Warning is a good introduction as it encompasses nearly everything. If, however, there is a specific genre you want to go for or if you prefer long fiction, I'd pick another of his books. Smoke and Mirrors, my first Gaiman book, is also a short story collection (more focused on fantasy/horror) and, years later, I am still haunted by his take on Snow White. If you want recommendations for long fiction, just hit me up in the comments. Otherwise, I'll go into a very long gushy rant about all his books I've read.
But regardless of your familiarity with Gaiman, Trigger Warning is a book you want to have on your shelves. It speaks of the horrors in human life, big or small. It has stories to scare you and stories to make you think. And besides, it's Gaiman. He's a genius. You'll love it. Read it.
.
The book in a quote
"The past is not dead. There are things that wait for us, patiently, in the dark corridors of our lives. We think we have moved on, put them out of mind, left them to desiccate and shrivel and blow away; but we are wrong. They have been waiting there in the darkness, working out, practicing their most vicious blows, their sharp hard thoughtless punches into the gut, killing time until we came back that way."