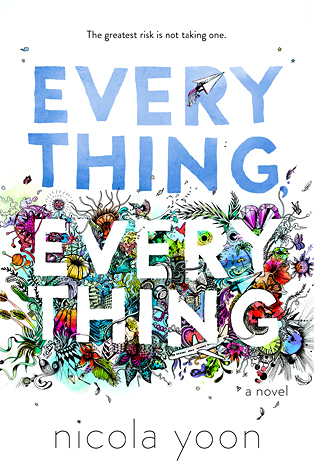 Title: Everything, Everything
Author: Nicola Yoon
Publisher:  Corgi Childrens
Publication date: 1st September 2015
Pages: 320
ISBN: 9780552574235
Source: NetGalley
Rating: 3/5
Buy at: BookDepository
My disease is as rare as it is famous. Basically, I'm allergic to the world. I don't leave my house, have not left my house in seventeen years. The only people I ever see are my mom and my nurse, Carla.

But then one day, a moving truck arrives next door. I look out my window, and I see him. He's tall, lean and wearing all black—black T-shirt, black jeans, black sneakers, and a black knit cap that covers his hair completely. He catches me looking and stares at me. I stare right back. His name is Olly.

Maybe we can't predict the future, but we can predict some things. For example, I am certainly going to fall in love with Olly. It's almost certainly going to be a disaster.
Maddy's eighteen years of life have been dyed one shade: white. There have been no other colours. From her clothes to her walls, everything in her home is white. And when your whole life has been lived indoors, you know no other tone. Maddy has always been mostly content with it. She knows that if she wants to survive despite her illness, SCID, that makes her allergic to the world, she has to stay inside. And inside isn't that bad. There are books to read, lessons to learn from her online tutors, games to play with her mum, and cat videos to watch with Nurse Carla.  But when Olly and his family take the house next door, Maddy encounters a burst of colour she can't help but yearn for. Surviving isn't enough anymore. She must live. Even if it might cost her life.
When I first read the premise for this book, my hand grabbiness went over the roof. I could finally learn about what it was like to live with a condition like SCID, maybe even get a grasp of what the condition itself was. But… there was scant little of it. After a whole book about it, I've learned next to nothing about SCID. There is no discussion of what triggers the allergies, of what is safe and why, … nothing. Not one bit. All that I came out of the book with was "do not go outside" and "un-filtered air is dangerous". When the MC lives with something that so greatly changes their life, you expect to learn a little more than that, no?
It wasn't just here that there was little depth. The romance part of it, whilst adorably cute, was lacking. Sure, Olly and Maddy cared for each other, but it was not a 'sweep off their feet' sort like the premise promised. If anything, they felt like friends who had a crush on one another. Nothing other than that, which is totally okay as long as you don't try to sell it as something else, which the author did. Besides, one would expect that, if they loved one another as much, they would have shared more of their lives with one another. As it was, I finished the book knowing very little of Olly and his family. A real shame since there were plenty of family abuse topics that could have been tackled.
But it's not like the whole book was a disappointment. No, I quite enjoyed reading Carla and Maddy's relationship, as well as the one with her mother (which, again, could definitely have been much more developed). It's not easy to be a single-mum with a sick child, and her mother's concern comes across the page.
Another thing I quite enjoyed was the writing itself. It's whimsical and lyrical, two things I adore in writing. Not to mention that the IMs, tiny book reviews, and other snippets Yoon included made Maddy much more relatable and the book more enjoyable to read. Oh, and did I mention that Maddy is biracial? And that Carla is Hispanic? Because that did make me grin.
In the end, though, and especially taking in the end of the book itself (predictable, too easy, and far too neat?), it was not enough to keep me from sighing in disappointment once I closed the book.
Everything, Everything is a book brimming with potential that refuses to take the plunge and deeply explore the many complex issues it mentions. It's still entertaining if you want a bit of fluff and an easy read where you needn't think much. If you want more than that, I'd recommend going for another book instead.
w.
The book in a quote
"It's a hard concept to hold on to–the idea that there was a time before us. A time before time.
In the beginning there was nothing. And then there was everything."