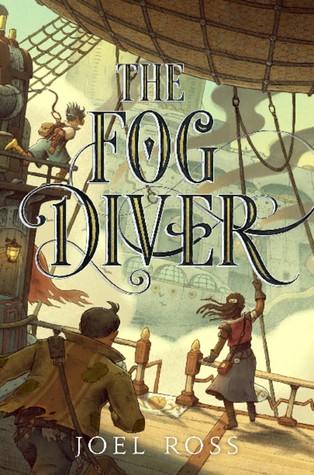 Title: The Fog Diver
Author: Joel Ross
Publisher: HarperCollins
Publication date: May 26th 2015
Pages: 336
ISBN: 0062352938
Source: Edelweiss
Rating: 4/5
Buy at: BookDepository
Joel Ross debuts a thrilling adventure series in which living in the sky is the new reality and a few determined slum kids just might become heroes. Perfect for fans of Rick Riordan and Brandon Mull, this fantasy is filled with daring and hope and a wonderfully imaginative world.

Once the Fog started rising, the earth was covered with a deadly white mist until nothing remained but the mountaintops. Now humanity clings to its highest peaks, called the Rooftop, where the wealthy Five Families rule over the lower slopes and floating junkyards.

Thirteen-year-old Chess and his friends Hazel, Bea, and Swedish sail their rickety air raft over the deadly Fog, scavenging the ruins for anything they can sell to survive. But now survival isn't enough. They must risk everything to get to the miraculous city of Port Oro, the only place where their beloved Mrs. E can be cured of fogsickness. Yet the ruthless Lord Kodoc is hot on their trail, for Chess has a precious secret, one that Kodoc is desperate to use against him. Now Chess will face any danger to protect his friends, even if it means confronting what he fears the most.
Hello, giggle worthy steampunk/post-apocalyptic/science fiction adventure full of friendship and mysteries!
Years before Chess was born, the Fog rose. Not just any Fog – a deadly one. Those who dive into it will get sick, be it a day or many years later, and there is no cure for the fogsickness. In this post-apocalyptic world, only the top of the highest hills are habitable. When most of humanity's treasures and materials got left behind on the ground, when competing for resources is your daily life, it is no wonder that Chess and his group of friends make a living out of diving into the Fog and selling their finds – even if haunted by the chance of death. They are always careful in how and how often they do it, but when their adoptive mother gets the fogsickness, they enter a race against time and against Lord Kodoc, a tyrant who controls both the upper parts where the rich dwell, and the slums of the poor. They must have enough money to go to the rebels' base, Port Oro, the only place where there is hope of a cure, and they must do it without getting killed themselves.
As you can imagine, the worldbuilding in this book is insanely amazing. It feels like a mixture between Columbia from Bioshock Infinite and London Below from Gaiman's Neverwhere, with its very own twist. There are actual flying ships, mismatched houses, sky pirates, and everything you could possibly imagine. And that is not even the best bit.
Although the story is set in a time not very far away from the readers' present, the characters have already developed an idea of a Before and an After of the Fog's rising. Unlike most stories The Fog Diver gives it a hilarious spin. There are plenty of references to the past – the reader's 'pop culture' – that have been turned upside down or taken far too literally.  From an old tale of an epic fight between the Klingons and the Jedi to the extinct species of the spelling bee, there are far too many giggle worthy moments. All the while it raises such questions as "how will the future generations see us?" or even "how much is too much technology?" It's not often that a book manages to be fun to read, pertinent and kid-friendly at the same time, much less a debut.
The characters too are not just Middle Grade perfect, but overall fiction perfect. They are diverse in every way imaginable: in age, gender, colour, background, personality,… you name it. In many ways, they are nothing if not realistic and relatable. Amidst its colourful cast, you are bound to find someone who will capture your heart.
And if the characters don't, the top notch pacing, witty writing, and intelligent naiveté that undercurrents this book surely will.
The Fog Diver is everything you want in a Middle Grade book. It's fun and incredibly funny, the main characters are people you would love to be friends with, there are plenty of lessons without patronizing, it features a very original world, and it gets you to think. What more could you ask for? Keep an eye on Joel Ross. I know I will.
.
The book in a quote
"'It's history,' I said a little defensively, because the scrapbook was my only connection to my father. 'How else would we know about the weird animals that used to exist? Spelling bees? Hello Kitties?'"