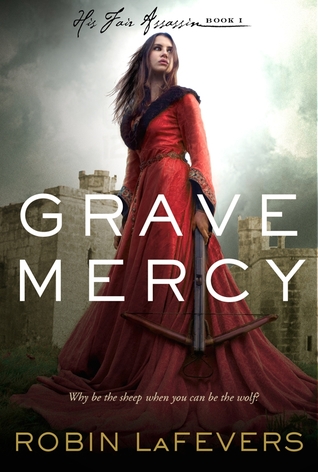 Title: Grave Mercy
Author: Robin LaFevers
Publisher:  Houghton Mifflin Harcourt
Publication date: 3rd April 2012
Pages: 550
ISBN: 054762834X
Source: NetGalley
Rating: 3/5
Buy at: BookDepository
Why be the sheep, when you can be the wolf?

Seventeen-year-old Ismae escapes from the brutality of an arranged marriage into the sanctuary of the convent of St. Mortain, where the sisters still serve the gods of old. Here she learns that the god of Death Himself has blessed her with dangerous gifts—and a violent destiny. If she chooses to stay at the convent, she will be trained as an assassin and serve as a handmaiden to Death. To claim her new life, she must destroy the lives of others.

Ismae's most important assignment takes her straight into the high court of Brittany—where she finds herself woefully under prepared—not only for the deadly games of intrigue and treason, but for the impossible choices she must make. For how can she deliver Death's vengeance upon a target who, against her will, has stolen her heart?
Grave Mercy is one of those few books in which my reason and heart are at a conflict (befitting when you take into consideration the romantic plot of the novel). On the one hand, my mind tells me the book has some issues that need addressing. On the other, it was a compulsive read that had me greedily turning the page.
You see, LaFevers picked an original and curious concept that is sure to pique many's interest: assassin nuns who work in the name of an old pagan god in a Christian late Medieval Europe. Since they do not want the subject of their worship to be erased from the land, the god (or saint) of Death Mortain, the nuns kill those who threaten to let France take Brittany. And who are these nuns? The human daughters of Mortain himself.
That's why Ismae, a novice, is thrown into court. She is sent to spy and murder, but ends up dealing mostly with court politics, betrayals and power schemes. This means the book is sometimes slow in the action side. In hindsight, the lack of action is especially noticeable when we think of Ismae as an assassin who ends up doing very little assassinating. Nonetheless, the blend of history and paranormal is quite interesting, even if the paranormal side felt odd and hard to believe at times (especially a scene in the ending which left me speechless in a very bad way).
Another thing I couldn't quite buy was the romance between Ismae and Duval. There isn't much chemistry between them. Besides, even though its beginning spans a good portion of the book, it feels like their romance happens too quickly. Their relationship would work just as well – if not better – if it had turned from hate to friendship and not romantic love. Still, I do like that it's not your stereotypical fast burning, intense YA romance. There's space for mutual respect and care.
This issue would probably be solved if there had been a little more characterisation of all characters. Although I did empathise somewhat, I couldn't suffer with or for them. At the end of the story, when some suffer brutal blows, my heart wasn't ripped to pieces. It was just another plot point.
I also wish there had been more of Annith and Sybella, Ismae's old friends who feel forgotten only too often. It seems they have bigger parts in subsequent novels, but the lack of them in Grave Mercy feels, quite frankly, wrong. If these girls are so important to one another, surely they'd at least try to correspond more often, no? Hopefully, the rest of the trilogy will give me the answer to this.
Despite my issues with characterisation, I really do like the agency given to Ismae, her stubbornness and wish to comply with her convent's rules. What I could have done without, however, was how long it took her to understand what was happening. The plot twist is obvious from the start. So, when she finally got there, all I could think was "finally". It's a good thing I hadn't started reading this book expecting awe-worthy plot twists, or I would have been sorely disappointed.
All in all, although I liked the book, it's not the sort that I would push into everyone's hands. It's entertaining, different, and a page-turner but not mind-blowing or particularly poignant. Having said that, it's time to pick the second book to see how the story progresses. Fingers crossed it's as good as everyone says.
w.
The book in a quote
"Wasn't she scared?" Isabeau asked, her voice naught but a whisper. "To go with death?"
"No." I reach over and tuck her hair behind her ear. "For death is not scary or evil or even unmerciful; it is simply death."