The start of a new semester may bring new things to learn, but it also takes away a lot of time, including the kind one could've spent reading. And so, instead of keeping up with 8 books a month, I only managed to read four from start to finish.
But from one of those four, I found one of the most fantastic books I've held in a very long time…
On the Edge of Gone, Corinne Duyvis (4.5/5)
"'I'm not punishing you,' I say. 'I'm protecting me.'"
If this book doesn't end up in everyone's "favourite reads of 2016" lists, I'll be gobsmacked. It's already in mine. Touching, quiet, honest. It's an apocalyptic book like no other. Read Diana's review.
The Poor Man's Guide to Suicide, Andrew Armacost (-/5
)
"It's all been scripted. But there's no need to see the second act. You already know how the play ends, don't you?"
I couldn't finish this. Every word felt… wrong, tainted. With so little reading time, I had to give up on it.
Mortal Heart (His Dark Assassin #3), Robin LaFevers (2/5)
"If you so much as snicker, I will kill you all."
Goodness, was this full of obvious plot twists and cheesiness! As curious as I was about Annith before, now I would rather she'd have remained a secondary character.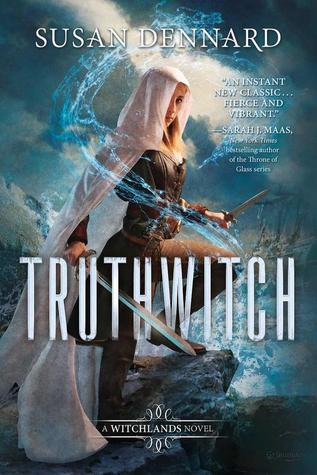 Truthwitch (The Witchlands #1), Susan Dennard (4/5)
"Sometimes justice was all about the small victories." 
It took me a while to get into Truthwitch, but once I did, boy was I into it! Politics, magic, friendship, … it's just one fantastic read! I cannot wait for the next one!
School's Out Forever (Maximum Ride #2), James Paterson (2/5)
"Boy, you just can't kill people like you used to."
And yet another series that is not for me! I had a feeling that might be the case, but decided to give it another try. Now I know. Intriguing plot, lacklustre execution. I think I'll drop this series.
 ~~*~~
How about you?
What did you read this month?